Protecting your home
from unwanted pests is
what we do best
Beeline Pest Control is your trusted partner, providing a full range of safe and reliable pest control solutions to safeguard your family.
Your home serves as your sanctuary, a place of refuge from the outside world. While hosting guests in your home can offer a more intimate and comfortable setting compared to public venues, maintaining control over your space is essential. In Idaho, various unwelcome visitors can disrupt your domestic tranquility. While some unexpected drop-ins may include friends or relatives, the most concerning intruders are those from the non-human realm.
This is where Beeline Pest Control excels. As a locally owned and operated company, we possess intimate knowledge and extensive experience in dealing with the local pests eager to make themselves at home without an invitation. Our state plays host to a diverse range of pests that neither announce their arrival nor knock before entering, and they certainly don't adhere to any form of rental agreement. Evicting them can be a challenging task, necessitating the expertise of a proficient Idaho pest control service.
Different ways Beeline can protect your home
from unwanted pests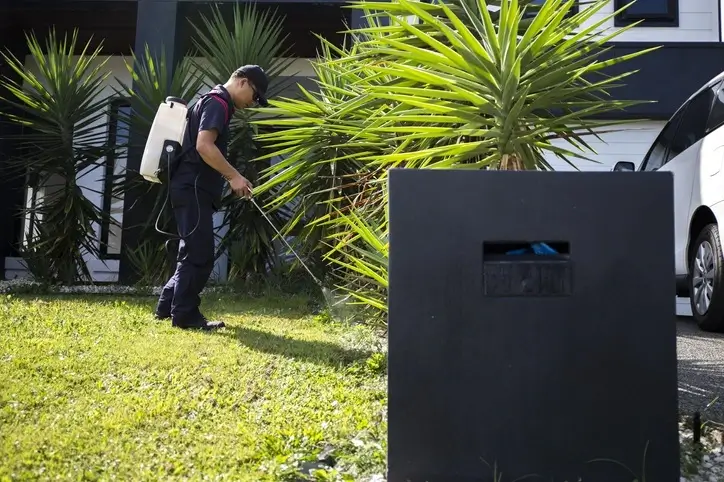 One of the most effective strategies for preventing pests from entering your home is to implement external pest control measures. This involves establishing a protective barrier around your home that acts as a deterrent for pests. There are several highly effective approaches to achieving this goal, including:
1. Sealing any cracks and gaps in your foundation and exterior walls.
2. Installing door and window screens to block potential entry points.
3. Maintaining a clean and debris-free yard and surroundings.
4. Removing sources of food and water that may attract pests.
Engaging in external pest control is a crucial component of maintaining a pest-free home. By proactively taking these measures, you can prevent pests from gaining access to your home in the first place.
When it comes to maintaining a pest-free home, there are certain steps you can take on your own. However, when infestations become extensive or persistent, it's advisable to seek the expertise of licensed professionals. Here's what you can anticipate from interior pest control treatments administered by a reputable company:
1. Inspections: The initial stage of any pest control treatment involves a comprehensive inspection. This step allows the exterminator to identify the types of pests present, pinpoint their locations within your home, and determine the most effective treatment approach.
2. Identification: Once the pests have been identified, the next crucial step is to determine the most suitable treatment method. This may entail experimenting with various approaches until the optimal solution is identified.
3. Treatment: The most common method for interior pest control treatment is the application of pesticides. Typically, this is carried out using a pump-up sprayer, which enables the exterminator to access difficult-to-reach areas.
4. Baiting: In certain cases, baiting may be employed as an alternative to, or in conjunction with, pesticide spraying. Baiting involves setting traps with food or other attractants inside. Once the pests are captured, they can be safely removed from your premises.
5. Follow-Up: After the initial treatment, scheduling follow-up appointments is essential. This ensures that the pests have been completely eradicated and helps prevent their return.
The specifics of interior pest control treatments can vary depending on the severity of the infestation and the type of pests involved. However, in most instances, a combination of pesticide spraying and baiting proves to be an effective approach. With professional assistance, you can swiftly restore your home to a pest-free environment.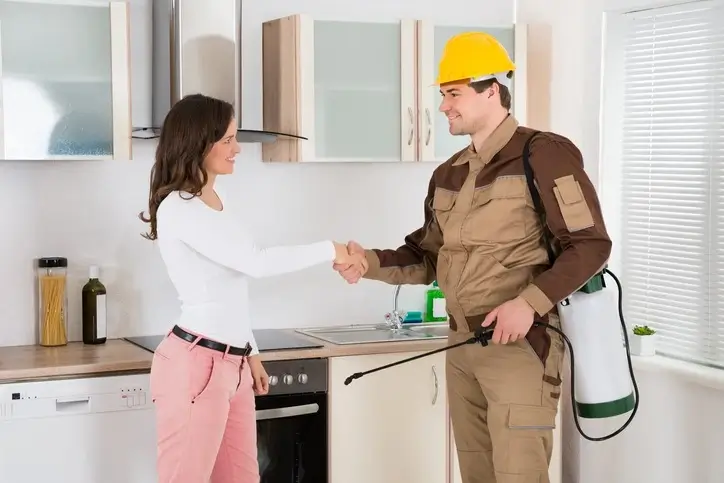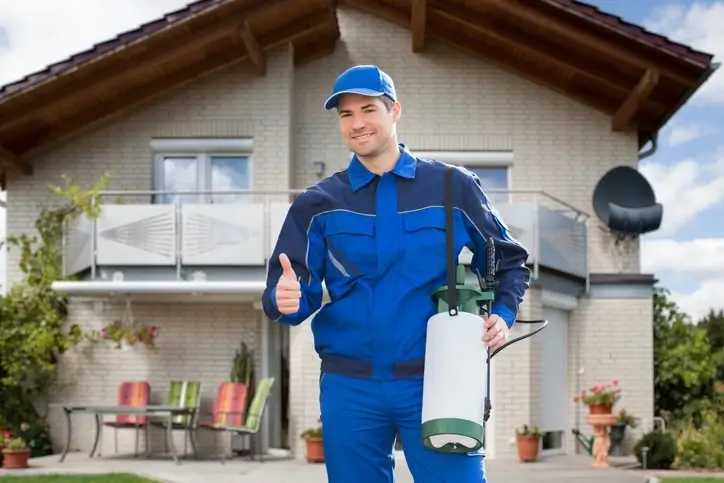 Pests in our region pay no heed to borders. When adverse weather conditions strike, they don't simply disappear or migrate to more favorable climates. Instead, they become even more determined to share their accommodations with residents in nearby neighborhoods. Our Quarterly Maintenance Program encompasses:
1. Regular Treatments: Comprehensive treatments for a wide range of pests, provided every three months.
2. Extermination Services: Effective extermination of pests such as spiders, ants, wasps, large roaches, and many others should they decide to invade your premises, backed by a 90-day effectiveness guarantee.
3. Free Interim Visits: In the event that additional visits are needed between scheduled treatments, these are provided at no extra cost.
With our Quarterly Maintenance Program, you receive comprehensive pest control services tailored to address any nuisances in or around your home. We are committed to safeguarding your family and possessions throughout the entire year. Rest assured, we employ only the safest and most advanced methods and treatments to keep pests at bay.
If a particular pest species has chosen to establish a presence in your home, or if one type of unwelcome visitor appears to have invited others to join the party, we'll step in and address the issue. This can also serve as an efficient pest control solution for Idaho residents when they notice an increasing number of trespassers loitering around their property, even if they haven't breached the walls of their home yet. We'll eliminate any unwanted tenants or potential intruders looking to set up camp in the near future.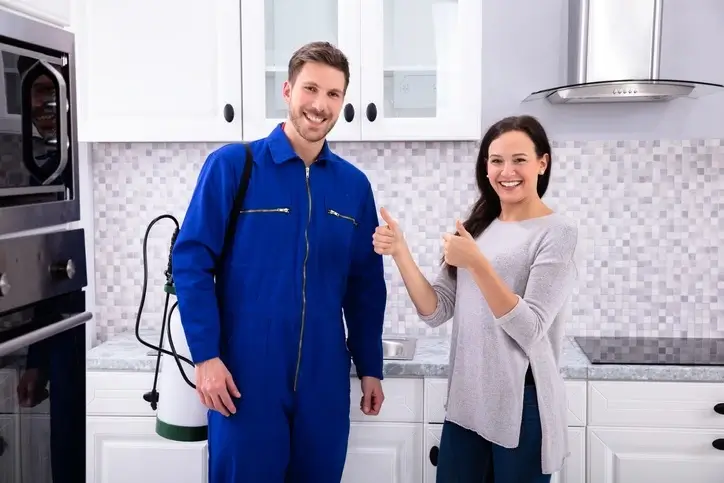 Have a specific pest problem?
Questions that People Most Frequently Ask Us
Take a look at some of the typical questions that pop up in the minds of our clients
Are pest control services safe for my children and pets?
Yes, pest control services are safe for your children and pets. Pest control companies use safe and effective products to control pests. They will take all necessary precautions to ensure your safety and the safety of your family. You can rest assured that you and your home are in good hands when you hire a pest control company.
I'm selling my home. Do I need to disclose a pest problem?
If you are selling your home, you should disclose any pest problems, especially damage, to potential buyers. Pest infestations can be a major turn-off for buyers, and it could affect the sale of your home. If you have a pest problem, we recommend that you contact a pest control company to get rid of the pests before putting your home on the market
I've been seeing more bugs and pests lately. Does that mean my home is dirty?
No, not necessarily. Even the cleanest homes can get pests. Pests are looking for food and shelter, and your home just happens to have both. There are a few things you can do to reduce the risk of pests around your home: – Keep your home clean and clutter-free, Seal up cracks and holes in your walls and floors, Store food in pest-proof containers, Keep your yard clean and free of debris.
I rent my home/apartment , can I still hire you for services?
Yes, you can still hire us for pest control services even if you rent your home or apartment. We will work with your landlord or property manager to ensure that all pest control products and treatments are used safely and effectively. In many multi unit apartments, the landlord will provide pest control to every unit, check with them to see if this is something that they already have scheduled.
Do I need to do any preparation before you come to my home for services?
We recommend that you remove any food from countertops and tables, and cover any exposed food in your pantry or cabinets. We also recommend vacuuming the area where we will be working to remove any loose debris. You should remove any items around the edge of any rooms that will be treated. Lastly, please make sure that all pets are safely out of the area.
Is it safe for me to allow an exterminator into my house?
Exterminators are highly trained professionals who use safe and effective products to control pests. They will take all necessary precautions to ensure your safety and the safety of your family. You can rest assured that you and your home are in good hands when you hire a pest control company.
How long after your services will I see results?
The results of pest control services can vary depending on the type of pest and the severity of the infestation. However, you should see a noticeable reduction in pests within a few days to a week after the initial treatment. If you have any concerns, be sure to contact your pest control company for follow-up services.
Will my home insurance cover damage from pests and pest control services?
Most home insurance policies will cover pest damage, but it is always best to check with your insurer to be sure. It is always better to take care of the pests as soon as you become aware of them.
What can I do around my home to reduce the risk of pests?
There are a number of things you can do around your home to reduce the risk of pests, such as sealing cracks and openings, removing potential food sources, and keeping your yard clean.
Is it necessary for me to leave my house while pest control is done?
For most types of pest control services, you do not need to leave your home while treatment is performed. However, in some cases, it may be necessary for you to vacate your home for a short period while treatment is being applied. Your pest control company will let you know if this is necessary.